What is Web3 eCommerce?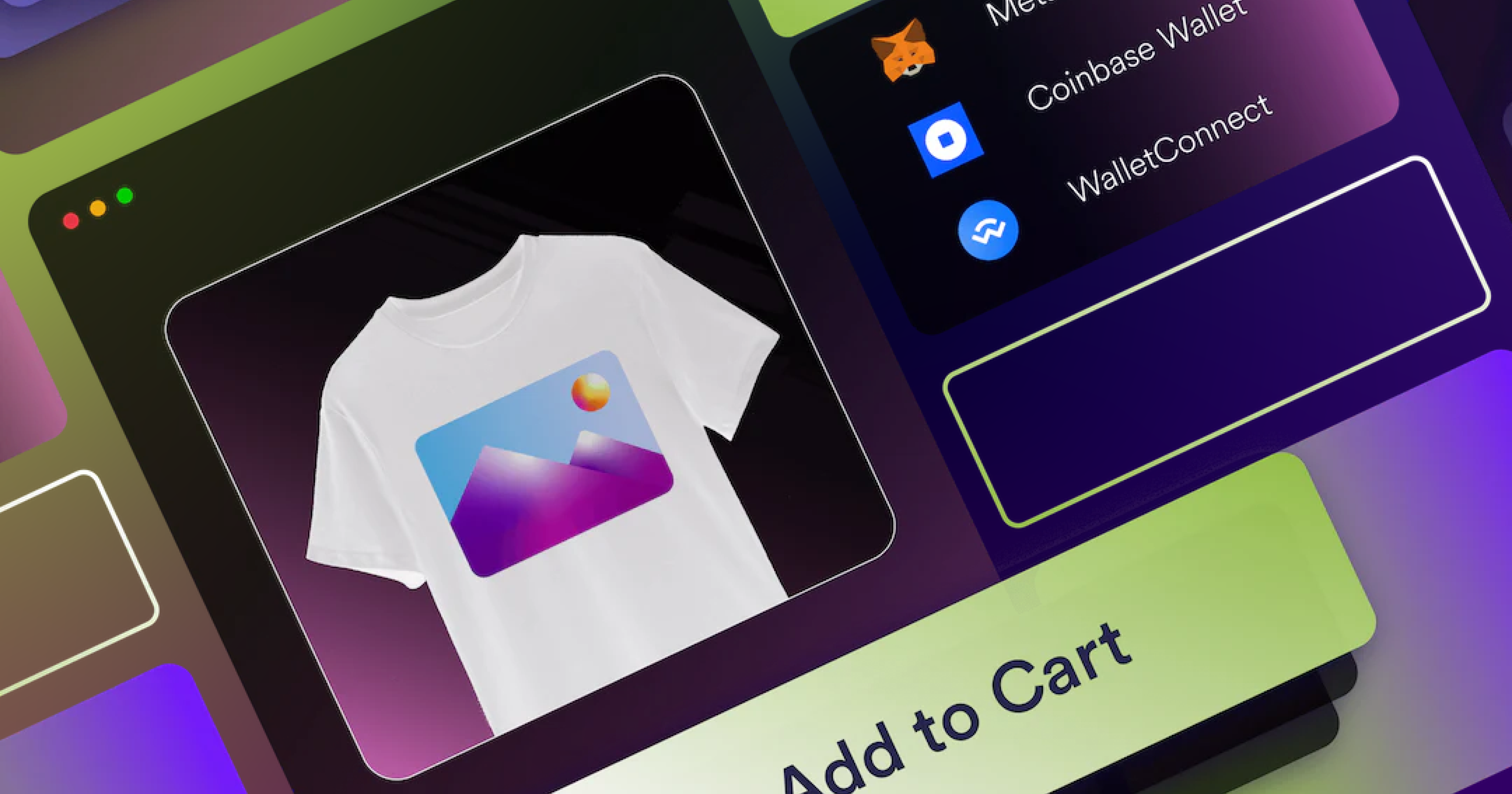 eCommerce is growing at a rapid pace. It's forecasted to grow by 56% in the next few years and reach about $8.1 trillion by 2026.
We can attribute this growth to consumers increasingly favoring the convenience of shopping online. Similarly, businesses recognize the potential of a borderless marketplace.
But with this growth also comes a myriad of challenges.
eCommerce has become a crowded landscape with over 26.5 million online stores operating worldwide. It's become increasingly challenging for brands to differentiate themselves and capture the attention of consumers.
Web3 eCommerce. This innovative approach, backed by blockchain technology, offers unique features like token-gated access, advanced personalization, and collaborations, crafting a win-win for both businesses and shoppers.
But what exactly is web3 eCommerce?
In this article, we'll dive into everything you need to know about web3 eCommerce and explain how you can create a web3 eCommerce store for your brand.
The state of eCommerce
eCommerce businesses are constantly bombarding customers with deals and discounts to differentiate themselves from the competition.
This tactic cultivates a customer base that's only loyal till the next best deal comes along. And it's unsustainable in the long run.
So, the next best alternative is to improve the customer experience. In fact, 77% of brands believe that customer experience is a key differentiator.
But the dominance of eCommerce giants poses a major challenge. Biggers brands can provide perks like one-day delivery but smaller retailers and mid-sized businesses may struggle to keep up with them.
Additionally, consumers expect personalized content and experiences and 76% of them become frustrated when this doesn't happen. Businesses are also finding it difficult to live up to consumer expectations given the recent data privacy concerns.
This is where web3 eCommerce comes in. It addresses these issues and enables brands to offer a more personalized, engaging, and transparent shopping experience.
What are the advantages of web3 in eCommerce?
Web3 eCommerce refers to online marketplaces that have integrated web3 components like blockchain, crypto tokens and other decentralized solutions. It's more beneficial than traditional systems for the following reasons:
Enhanced customer experiences
Web3 allows brands to enhance customer experience and build better brand affinity through innovative features like:
NFT-based digital collectibles: Offering customers digital collectibles enable brands to foster a deeper emotional connection with their customers due to the rarity and personal value they offer.
On-chain loyalty programs:  Web3 loyalty programs offer customers more flexibility and control over their rewards and experiences. This helps create more unique experiences and improves retention.
Token-gated access: Token-gated access is a unique feature that allows brands to offer early or exclusive access to products, events, or content. It incentivizes customers to engage more with the brand as it creates a sense of exclusivity among customers.
---
---
Segmentation and personalization
Since on-chain actions are publicly accessible, businesses can analyze a customer's wallet activity, the tokens they've owned, and their interactions with other applications.
These granular insights lets businesses tailor experiences and offers to specific user personas, enhancing personalization and engagement.
For example, brands can offer limited-edition tokens to initial buyers as an incentive to return and reward loyal fans with NFTs that grant access to special experiences.
Collaboration and additional revenue streams
Web3 facilitates effortless collaborations between businesses. This allows them to tap into each other's customer base and create new communities. This not only enhances customer engagement but also introduces innovative revenue models.
For instance, brands can set up automated revenue splits and generate royalties from secondary sales to create a continuous revenue stream.
Now that we've learnt the benefits of web3 eCommerce, let's look at brands using it.
Examples of brands successfully using web3 eCommerce
Here are some notable examples of brands that are setting new standards for online shopping and redefining customer engagement through web3 eCommerce.
1. Kith x Invisible Friends
Kith, a renowned lifestyle brand, has integrated web3 into its business model with the "Invisible Friends" NFT collectibles. These NFTs showcase looks from their upcoming summer collection and grant holders access to physical products.
2. Liquid Death
Liquid Death, a mountain water brand, entered the web3 space with the Murder Head Death Club (MHDC) NFT collection. These NFTs, designed by renowned artist Will Carsola, serve as digital collectibles and grant holders access to an exclusive digital community, real-life experiences, airdrops, and VIP privileges.
3. Adidas Metaverse
Adidas made the jump into web3 in 2021 by launching an NFT collection in partnership with well-known web3 brands like Bored Ape Yacht Club (BAYC), Punks Comics, and artist gmoney.
Following that, it launched an airdrop to introduce their Virtual Gear collection and announced the ALTS collection. Each NFT in the collection is an avatar that has specific traits with benefits tailored to the holder's interest. These initiatives helped Adidas build a strong community and cement their position in the web3 space.
4. Lacoste UNDW3
Lacoste embraced web3 with the UNDW3 NFT collection which was based on their iconic L1212 polo model. The collection grants holders special access to Lacoste's future web3 projects and offers perks like weekly raffles where they can win merch, NFTs, and additional points.
Users will also see their NFT evolve in real-time based on their engagement. That means the more they participate, the more their assets will evolve and appreciate in value.
5. JuneShine
JuneShine, a hard kombucha brand, launched a web3 loyalty program called the JuneShine Social Club, which rewards members  every time they visit the tasting room.This offers customers a continuous and immersive brand experience which leads to deeper brand loyalty.
How to launch an eCommerce store with web3 features
Many brands are integrating web3 for enhanced shopping experiences and deeper customer connections.
But the tools to build web3 eCommerce apps are limited, making it difficult for brands to build on the blockchain. This is where ThirdWeb comes in.
We have joined forces with eCommerce giant Shopify to launch CommerceKit to revolutionize the way brands and developers approach web3 commerce. Our tool simplifies the integration of web3 features into online stores and websites and offers a plethora of benefits like:
Membership and loyalty: Reward your most dedicated customers with exclusive free drops, token-gated products, special discounts, and even immersive in-real-life shopping experiences.
Digital collectibles: Sell digital assets directly from your storefront and allow customers to use familiar payment methods like credit cards during checkout.
Data integration: Merge on-chain data with existing web2 analytics to craft more personalized shopping experiences and fine-tune marketing campaigns.
---
---
Potential and future of web3 eCommerce
Web3 eCommerce has disrupted traditional online shopping due to its ability to clearly define user personas and improve customer experiences. As it continues to unfold its potential, shopping will go from a transactional experience to an immersive one that's truly personalized to every customer.
As major brands slowly add web3 eCommerce to their infrastructure, it's time that small and mid-sized businesses also head in that direction.
You can get started with web3 eCommerce smoothly with thirdweb's CommerceKit.
We hope this blog helped you better understand how web3 eCommerce stores work and their advantages.
If you have any questions, join 40,000+ other builders in our Discord community or reach out to the team directly for more info on how to get started with building your web3 eCommerce store.