Whal3s Shapes Next-Gen Events & Experiences with NFTs
Whal3s is a web3 token gating framework — providing developers with all of the components they need to build token-gated experiences such as loyalty programs, NFT rewards, and in-person events.
In September 2023, they brought token-gated experiences and NFT rewards to w3.vision x DMEXCO — Europe's leading digital marketing & tech event — that brought together 40,000+ visitors from 91 countries, 560+ partner companies, and 770+ speakers in Cologne, Germany.
Using thirdweb, Whal3s gave NFTs to every attendee at the event, seamlessly distributed via email and used as access tokens to exclusive experiences.
Whal3s powers next-gen token-gated experiences
Whal3s is a web3 token gating framework — providing developers with all of the components they need to build token-gated experiences such as loyalty programs, NFT rewards, and in-person events.
Using Whal3s, developers can:
Easily add token gating to websites or apps
Reward users with unique benefits like discounts, exclusive content, & special event perks
Handle creating, managing, and analyzing web3 experiences, and also know how their audience interacts with your NFTs across different platforms
So when the w3.vision team approached them to integrate digital perks & rewards into events and experiences, Whal3s brought a token-gated NFT rewards system to DMEXCO.
NFT-powered exclusive benefits at DMEXCO, a leading tech event
DMEXCO is a leading tech conference in Germany, uniting global digital marketing and tech professionals to explore industry trends, innovations, and future directions.
This year, the conference saw 40,000+ international visitors and 650+ companies, featuring over 800 speakers to navigate future trends in digital marketing and tech across two days — September 20 and 21.
This year, the conference was enhanced using NFTs—used to enhance attendee engagement, create memorable moments, and unlock exclusive perks.
Brands that organize events and conferences—whether online or offline—can use NFTs for marketing, creating interactive, tokenized campaigns that extend beyond the event. Moreover, integrating NFTs with virtual worlds allows physical events to have a persistent, digital presence.
For attendees, these NFTs can help them access digital goods, streams, or virtual meet-and-greets, leading to dynamic networking opportunities.
Whal3s and thirdweb joined forces to build a solution that airdropped branded NFTs to ticket holders. These branded NFTs came with personalized rewards and exclusive benefits. The rewards were both on-site and digital. More importantly, they were customized to different ticket categories by the w3.vision team, making it a more exclusive effort.
The event's remarkable success can be attributed to the meticulous design of airdrops, and the streamlined process of claims, all mirroring the user-friendliness found in Web2.
---
---
Elevating events with token-gated perks & rewards
Building an NFT-powered experience on the scale of a conference like DMEXCO is a daunting task. But, Whal3s and thirdweb made it possible with a fine blend of their respective strengths.
Whal3s contributed to the front-end components, including the dashboard and app, as well as the validation logic and benefits while thirdweb brought their expertise in wallet and smart contract management with the help of their smart contract and wallet SDK.
The project consisted of:
1. Smart contract & URLs: Deployed ERC-721 via thirdweb and developed URLs for ticket categories.
2. Ticket holder benefits: Defined category-based benefits using the Whal3s App.
3. Benefit page development: Created a benefits page using Whal3s SDK and React frontend (Next.js).
4. Email-based NFT minting: Integrated email to mint NFTs, involving email matching with ticket purchases via thirdweb's Embedded Wallets Service.
5. Claiming benefits via email: Users can redeem the benefits through the NFTs in their newly created e-mail based wallet. No Web3 onboarding needed.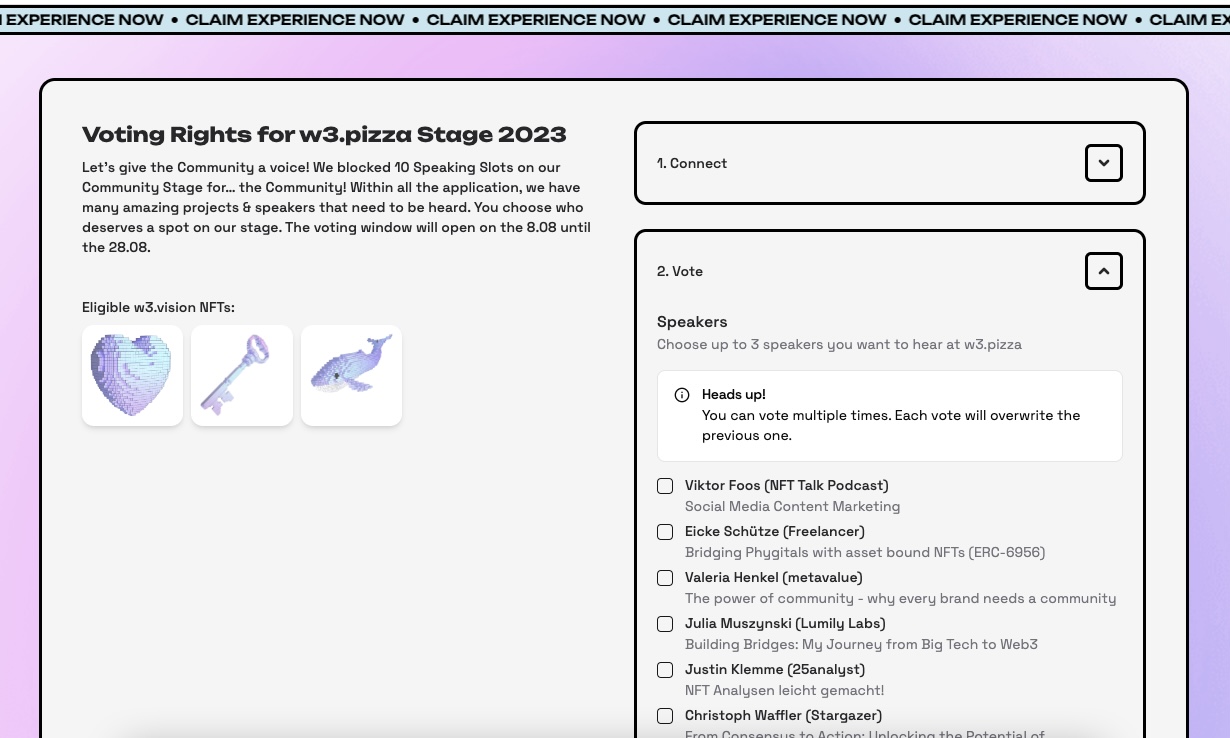 Let's dive into how thirdweb and Whal3s managed to co-create an NFT-powered experience.
Under the hood of the NFT rewards system
Breaking down the synergy of thirdweb and Whal3s, let us take a look at how thirdweb contributed to the building of this rewards system.
thirdweb managed the deployment of ERC-721 smart contracts using the ready-to-deploy NFT Drop contract. The flexibility of this smart contract allowed the metadata to be tailored for three different ticket categories — community tickets, industry tickets, and whale tickets. thirdweb also helped users connect with their email or their wallet via the Connect Wallet component.
Apart from this, thirdweb also made NFT transactions simpler with its Embedded Wallets solution:
thirdweb provided the key feature of email-based wallets via its Wallet SDK while its minting toolkit was used to:
Retrieve email addresses linked to wallet addresses.
Assist in matching email with ticket shop orders.
Facilitate accurate NFT minting per ticket category.
💡
Check out thirdweb's
Embedded Wallets
service to reward your event attendees with onchain perks & rewards.
All of these complemented Whal3s' front-end and SDKs to build a full-fledged rewards system that showcases how NFT technology can enhance customer experiences with minimal backend effort and development time.
Looking into the future: NFTs will redefine events and conferences
The way NFTs were used at the DMEXCO conference to reward their attendees and recognize their participation is a sneak peek into what lies ahead of us.
NFTs are poised to revolutionize events and conferences. These digital tokens have the potential to create unique, personalized experiences for attendees, offering exclusive access and rewards. More importantly, they also provide organizers with innovative engagement opportunities and measurable, and relevant data points built out of attendees' event interactions.
For those wanting to build NFT-based experiences, thirdweb offers a suite of developer tools ranging from smart contracts for airdropping NFTs to purchasing NFTs with just a credit card.
The combination of thirdweb and Whal3s lays the foundation for next-generation NFT experiences that let users seamlessly claim unique digital collectibles and directly make use of them, for example, to access real-world benefits.
User management and events & conferences are truly being redefined.
If you'd like to learn more about how thirdweb can accelerate your business and web3 development workflow, reach out to the team directly!
Start building today with thirdweb's web3 tools, SDKs, and smart contracts — easily, and for free:
---
---