EVEN Empowers Fans to Support Their Favorite Music Artists — and Get Rewarded for It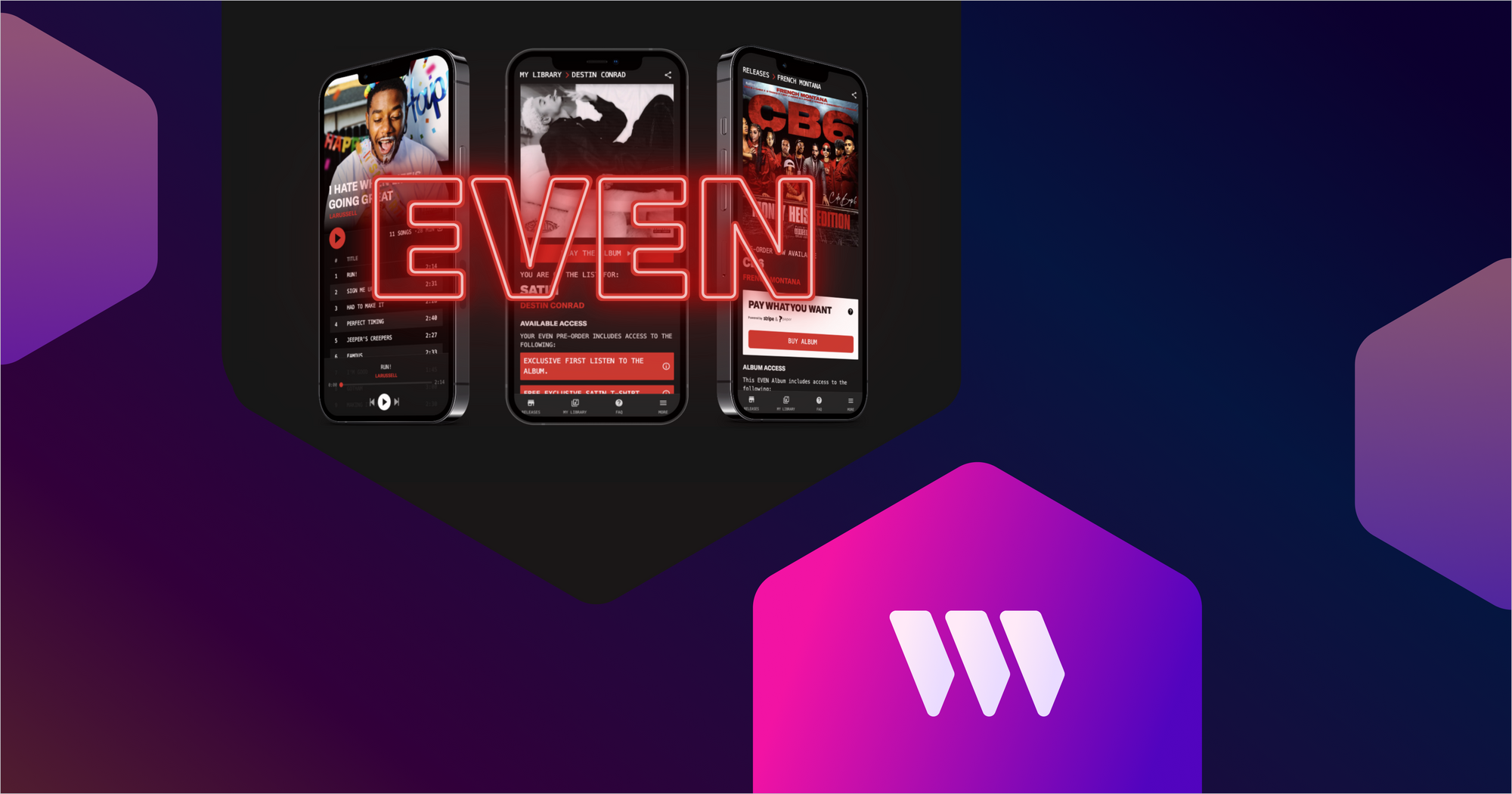 EVEN is a platform that empowers artists to connect with their core fans more deeply, rewarding them for their support with NFT-enabled music albums. Purchasing an album on EVEN gives fans first access to the artist's music, content, tour tickets, merchandise, and even album royalties — while also enabling them to support artists directly.
Unleashing the Power of Web3 in the Music Industry
EVEN is building a better future for artists, and the music industry at large, by enabling creators on their platform to take home 80% of what fans pay — compared to streaming platforms which pay a third of a penny per stream to them on average.
Using blockchain technology, as opposed to opting for the streaming model or being at the whims of a record label, allows for greater control and ownership for artists — while also providing fans with a verifiable way to become an early supporter and create a deeper connection with the creator.
Creating Better Experiences for Both Artists & Fans, through Utility-Enabled Music NFTs
To execute on their vision, EVEN partnered with thirdweb to offer utility-enabled digital albums as NFTs on their platform — successfully soft-launching with emerging artist LaRussell on October 1st, 2022. The soft launch resulted in the sale of 4,000+ NFT albums, and the onboarding of 12,000+ users on EVEN.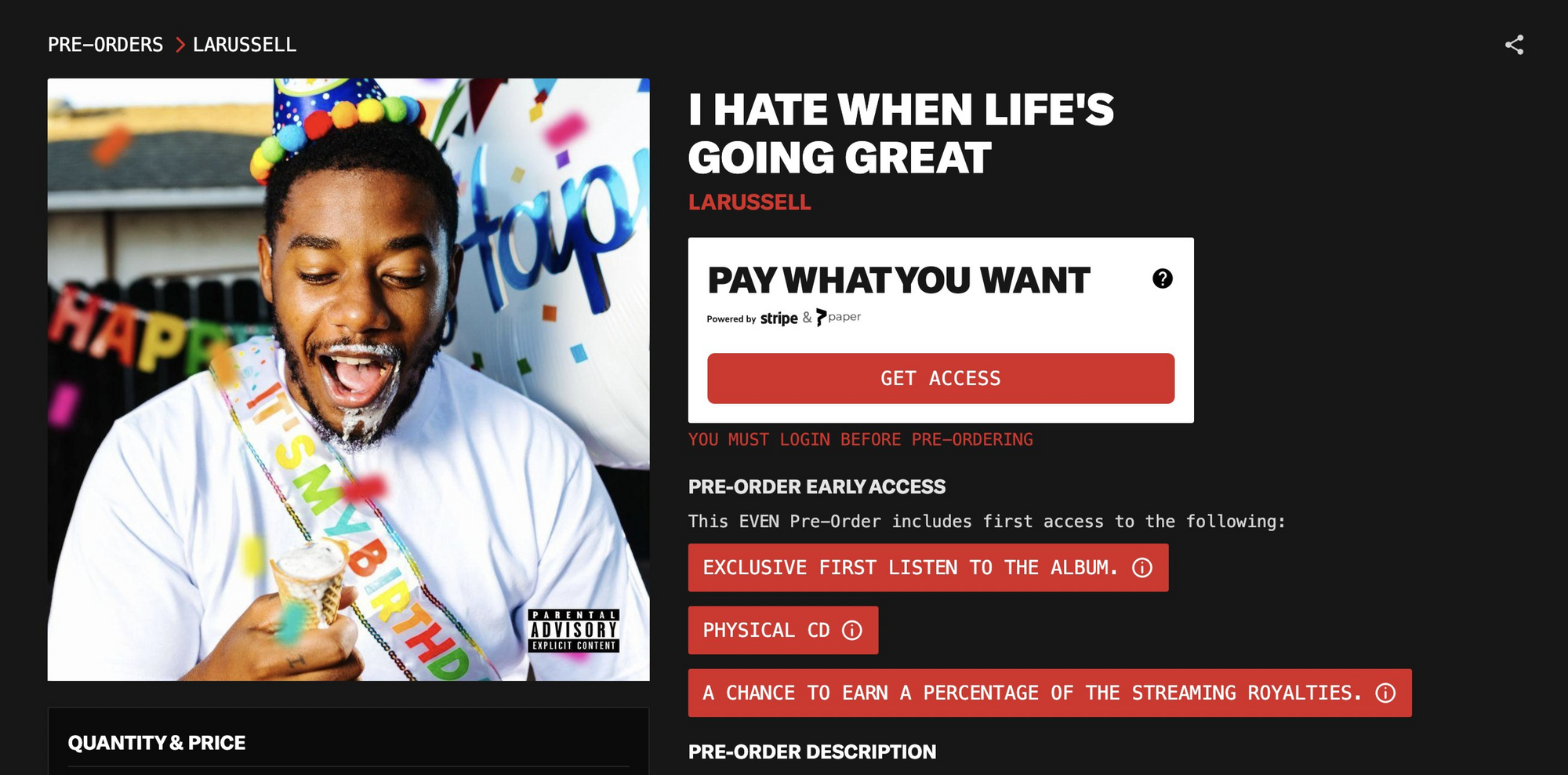 LaRussell is a Vallejo hip-hop artist whose music career took off between 2020 and 2021 — but despite building a strong and loyal fanbase, streaming platforms paid him $30,000 from streaming royalties in the last year.
Within just two weeks on the EVEN platform, however, LaRussell sold $95,000 worth of NFT albums through the support of 4,000 fans — enabled by EVEN's "pay-what-you-want" model through which some paid upwards of $2,500 to support the artist.
To compare, this is equivalent to the amount of revenue that LaRussell would have made from 24 million streams on traditional streaming platforms — typically requiring 4 million fans to listen to his music.
LaRussell's success on EVEN highlights the potential for NFTs to provide a more direct and lucrative revenue stream for artists — enabling the 1,000 true fans theory to work while also rewarding fans for their support with utility-enabled NFTs that can include everything from token-gated events access, to album royalties.
EVEN prepares artists with all the tools and resources to own their relationship with fans — enabling them to:
Set their price, quantity, and access
Get paid instantly after each sale
Own & export their data in one click
Onboarding Artists & Fans Onto Web3 Requires a Trusted Partner — thirdweb Delivers
The final piece of the puzzle was onboarding both artists & fans onto the web3 platform with as little friction as possible — creating the best possible experience for EVEN users while also focusing on building the product, rather than dealing with all the blockchain complexity.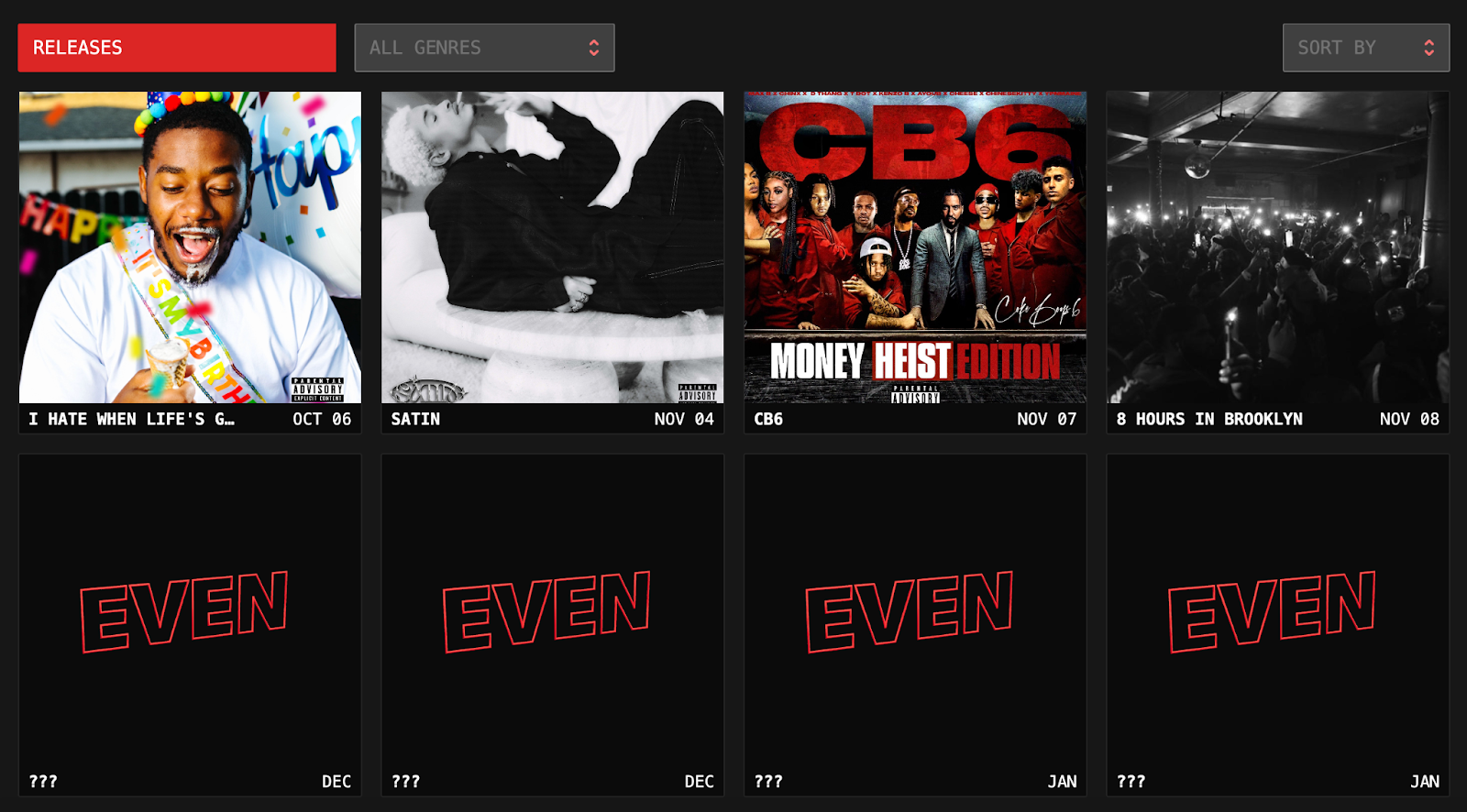 To do this, EVEN used thirdweb's best-in-class web3 tools, smart contract templates, and blockchain infrastructure — with the ability to create and test smart contracts, without any code, from easy-to-use dashboards. This enabled the EVEN team to experiment with different smart contract templates before attempting to implement any complex code into their platform — without having to hire a smart contract engineer, or to have any prior blockchain experience.
"Being able to create and test smart contracts from a dashboard was the easiest part of the project. This allowed us to experiment with different pre-built ones before even implementing any code solution."

– Alvaro Ramirez Rossello, CTO and Co-Founder of EVEN
EVEN also partnered with Magic to make creating and using web3 wallets as smooth and user-friendly as possible, and with Paper to make NFT purchase & checkout easy — using only the customer's email and credit card, without requiring a web3 wallet or cryptocurrency in the first place.
Looking Into the Future: Making the Music Industry Fairer for Artists & Fans
EVEN is excited to continue using thirdweb's tools and resources to power the web3 movement in the music industry while offering a seamless onboarding experience to their customers.
Having just launched on October 1st with LaRussell and still being in beta, the EVEN platform has powered releases for artists including French Montana and Destin Conrad — and the team is preparing for 400+ projected releases in 2023.
"thirdweb made our smart contract creation seamless for everyone involved. No one in the team has prior blockchain or smart contract experience. thirdweb allowed us to fully immerse ourselves and our clients into Web3."

– Mag Rodriguez, CEO and Co-Founder of EVEN
Learn more about EVEN and join their growing community of artists and fans at even.biz.
---
Unlock the power of web3 for your company. Try thirdweb.