Coinbase Brings Onchain Experiences to the Real World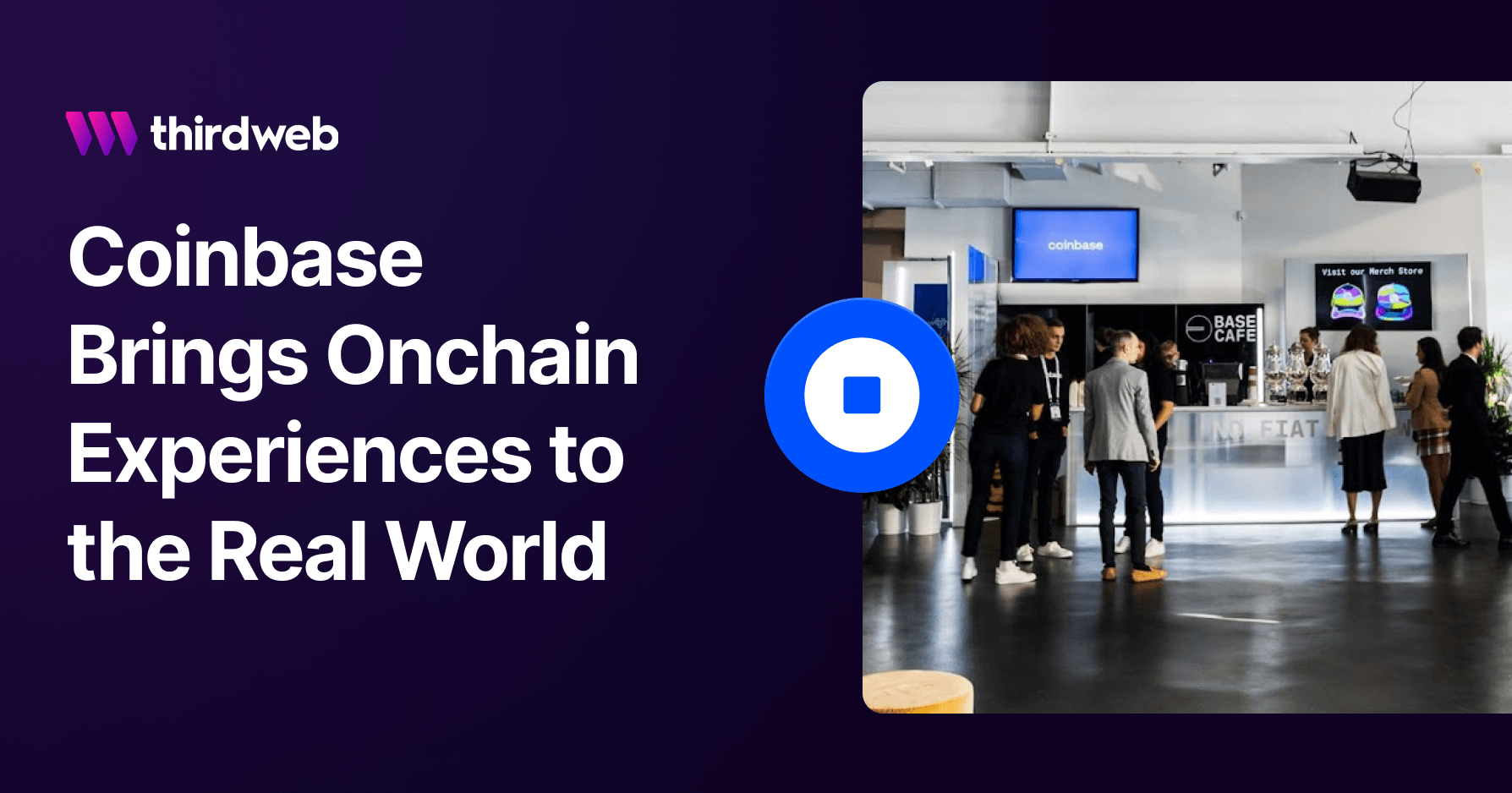 Coinbase aims to bring the next billion users onchain — driving adoption through real-world onchain experiences, powered by Base.
In September 2023, they brought onchain utility to Mainnet — an annual summit that brings together 2,000+ industry leaders, operators, builders, and investors — in an exciting activation that highlighted how onchain tech can be used in the real world.
Bringing onchain tech to the real world, with the Home Base
The Base Cafe first came to life at EthCC in July 2023, when the Coinbase team brought a Parisian Cafe onchain with instant USDC payments and messaging to order seamlessly:
The pop-up was a huge hit — demonstrating the power of onchain tech and showcasing its applications in the real world.
And in an effort to create even more delightful experiences, the Coinbase team brought onchain utility to the Mainnet 2023 summit — taking the beloved Base Cafe to the next level, introducing the new Home Base and Based Merch stores, and creating a space for people to explore various crypto-powered experiences on Base.
It was a huge hit: bringing half of all Mainnet attendees onchain through an immersive activation with seamless onboarding — all executed via the Coinbase Wallet app with built-in gasless USDC payments, onchain messaging powered by XMTP, and NFT claims via QR codes & NFC badges.
With NFTs that were claimable at every onchain experience in the Home Base & Base Cafe, thirdweb is proud to have powered the NFT airdrops behind the activation.
Let's dive into what's under the hood, and how the Coinbase team used thirdweb Engine — our new all-in-one interface with blockchain APIs for enterprise-grade web3 apps — to deliver a successful activation & give attendees smooth onchain user experiences.
Creating delightful onchain experiences that showcase utility
The Base Cafe was one of Mainnet's greatest highlights — bringing people onchain through delightful real-world experiences and showcasing the potential of web3 tech. The unique activation had 3 core components that were powered by Engine:
1. Exclusive onchain collectibles for Home Base attendees
When attendees checked in at the Home Base in Mainnet, they scanned a QR code to open the Coinbase Wallet app — then sent a message (via XMTP) to the Coinbase Lounge Bot.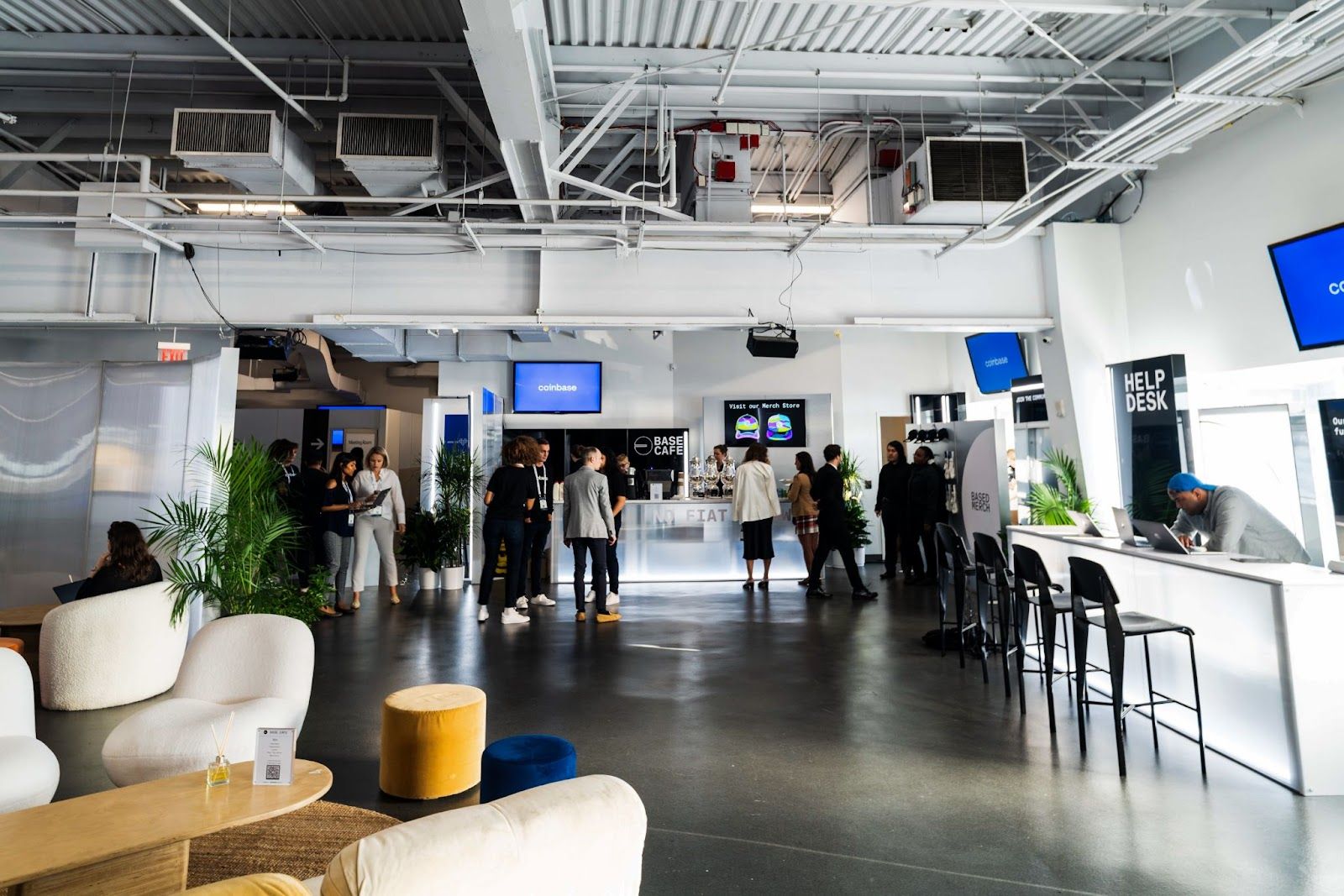 Once they did, the bot sent attendees a summary of the day's agenda — simultaneously airdropping them an exclusive Home Base collectible that served as proof that they were there.
See the Home Base smart contract:
2. Digital membership tokens for Base Cafe customers
When attendees visited the Base Cafe, they could purchase coffee & pastries via the Coinbase Wallet app — with instant, gasless USDC payments through messaging for seamless ordering.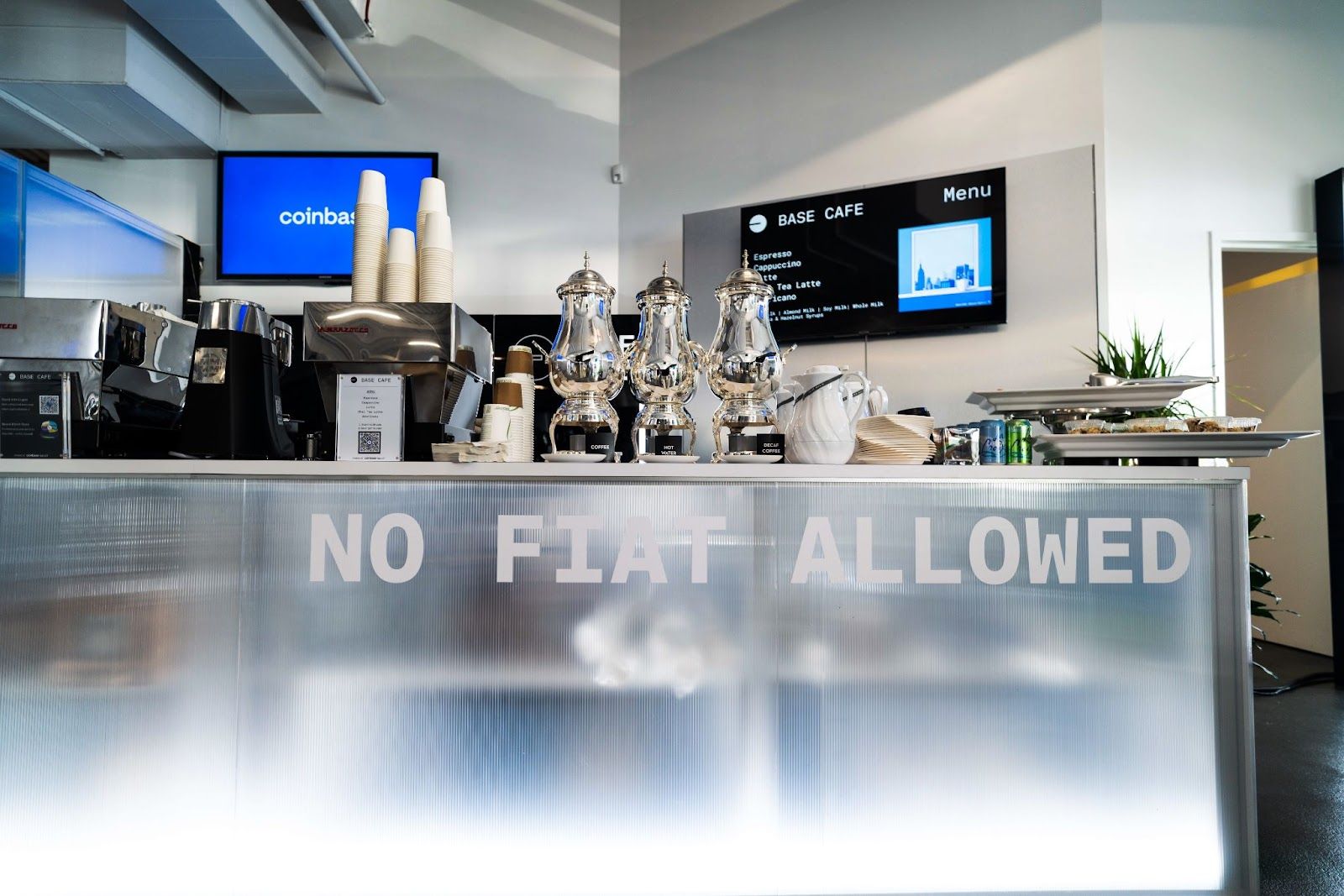 Once their order was confirmed, a commemorative Base Cafe NFT was sent to their wallets, serving as a digital membership token to the Base Cafe.
See the Base Cafe smart contract:
3. Limited-edition physical (and digital) swag at the Based Merch store
Attendees that visited the Home Base could purchase limited-edition swag at the Based Merch store — including everything from hats, to hoodies, to socks: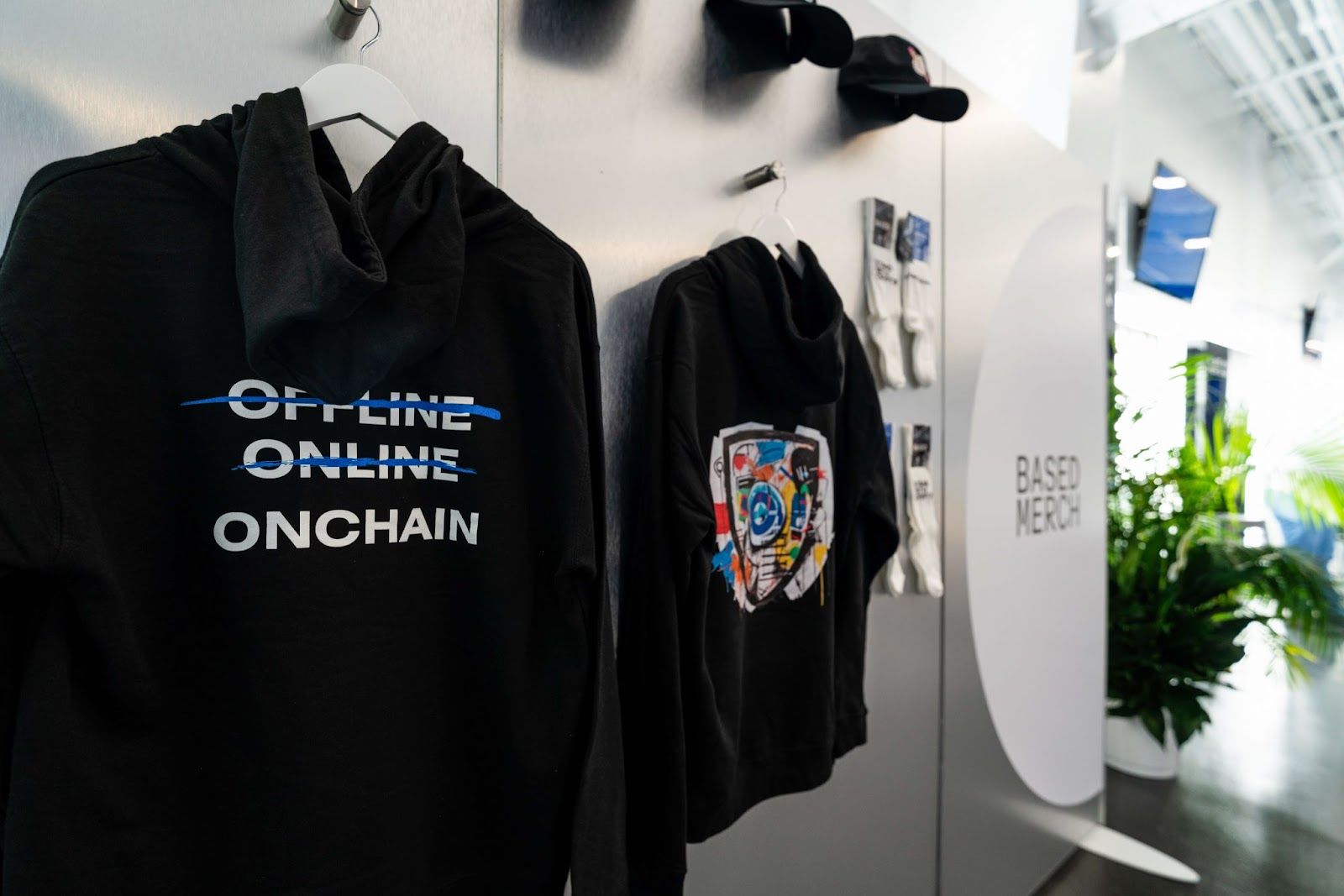 Once they made a purchase via the Coinbase Wallet app, they were then airdropped a digital version of the item they bought!
See the full Based Merch collection and check out the smart contract:
Every onchain experience delighted customers with limited-edition digital collectibles that served different use cases — with claimable NFTs at every step of the activation.
With built-in smart contracts, wallet management, gasless transactions, and all of the managed infrastructure for any EVM chain — the Coinbase team used thirdweb Engine to seamlessly integrate NFTs into the activation.
---
---
Bringing fast, secure, & reliable web3 infrastructure to every app
Building onchain applications with seamless user experiences, at scale, is complex — requiring developers to set up backend infrastructure to create & manage wallets, deploy & interact with contracts, and handle user authentication.
Instead, the Coinbase team was able to simply plug Engine into their existing backend — saving months of development time & instantly leveraging all of thirdweb's tools & robust infrastructure, including:
Wallet Management: Create backend wallets, store keys securely, sign & send transactions, and transfer tokens smoothly & at scale with nonce management.
Smart Contracts: Deploy, read, & write to any smart contract across any EVM-compatible blockchain — and build with thirdweb's audited smart contracts.
Gasless Transactions: Onboard users in an instant & create seamless web3 UX by sponsoring gas fees — for any & all transactions.
Managed Infrastructure: Enable smooth & secure user experiences with robust, production-grade infrastructure — and have ultimate peace of mind with high data reliability, throughput, and uptime.
Web3 Auth: Create permissions to enable users' wallets to directly interact with certain endpoints on the thirdweb Engine.
By using thirdweb Engine APIs to help power the experience in the Coinbase Wallet app, the team was able to ensure successful NFT creation, delivery, and transaction management on Base — so that they could have peace of mind & focus on creating delightful user experiences.
---
---
Looking into the future: Bringing people onchain via utility-driven applications & experiences
Rather than waiting for mass adoption, Base is creating it — bringing delightful onchain experiences to people and showcasing the power & potential of web3 tech.
From ordering coffee through Coinbase Wallet, to buying merch with gasless USDC, to receiving digital collectibles for trying new experiences — every interaction at the Home Base was seamless, delightful, and onchain.
As Base continues to bring innovative web3 use cases to the real world, the team is excited to continue using thirdweb's tools to create seamless onchain user experiences & build a digital economy that is global, open, and accessible to all.
With every thirdweb product packaged into one, Engine provided the Base team with everything they needed to launch the Home Base activation at Mainnet 2023 — enabling them to focus on creating delightful onchain experiences.
If you'd like to learn more about how Engine can accelerate your business & web3 development workflow, reach out to the team directly — or start building with thirdweb Engine: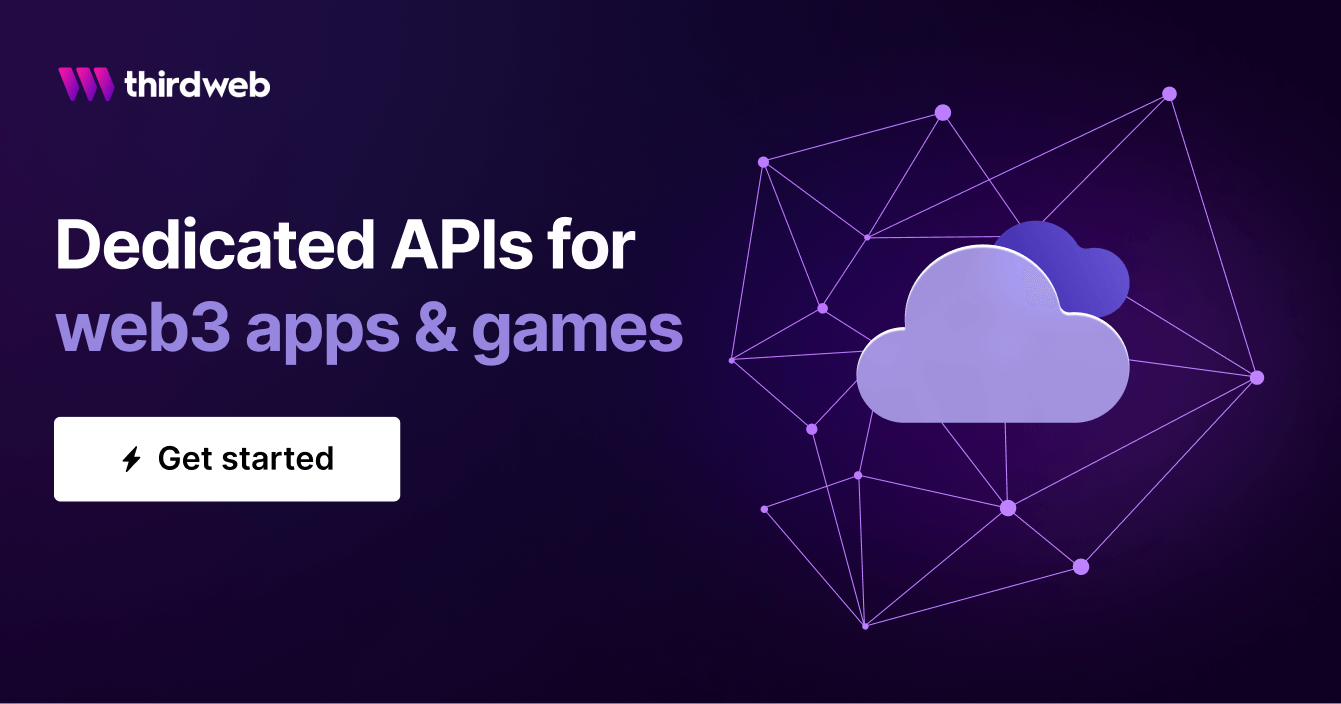 ---
---